Outreach team
Our outreach team travel all across Surrey, London and beyond providing high quality outdoor learning experiences.
We can provide a range of enjoyable and engaging outdoor activities at schools, youth centres, high-profile events, your workplace, your back garden and most other places provided there is enough space. We deliver a range of positive activities and learning experiences (through informal education) to improve personal and social development while working towards identified desired outcomes. Activities are accessible and enjoyed by all.
What our outreach team can offer you
Activities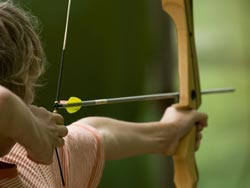 Archery
archery offers a steep learning curve allowing an individual to work on improving self-confidence, concentration and target setting
this activity is accessible to all depending on grounds available.
Climbing
with our mobile climbing tower on your site, we offer young people the chance to be part of a climbing team; helping with the safety rope (belaying) and climbing
great for confidence, teamwork, communication and trust
our qualified staff will lead the session and provide all the necessary safety equipment.
Orienteering
our staff will help map (possibly with your young people) an orienteering course on your site
starting with games to teach basic map skills such as map orientation, legend symbols, handrails and landmarks then moving on to a completing an orienteering course. It is more than just running around looking for markers!
good for teamwork, communication, independence and time management.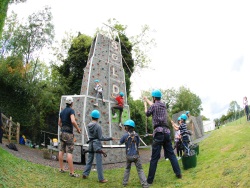 Problem solving
individual icebreakers and team tasks facilitated around the 'Plan, Do, Review' model; to get as much experiential learning from the challenges as possible
fantastic for teamwork, team roles, problem solving skills, leadership and cognitive thinking.
Woodland activities
we will lead an informative session on how to make a fire using natural materials with the minimum impact on the environment. An opportunity to safely build, light, maintain and extinguish a small fire in groups and time permitting toast marshmallows, boil water in a Kelly kettle or cook a whole meal
good for planning, risk awareness and management, teamwork and communication.
Consultation and site visit
If you are a new client we would plan a consultation and site visit with you. This would include various things such as planning the day, risk assessments, identifying learning outcomes and creating lesson plans etc. From this consultation we would be able to create a bespoke programme, which may include a combination of some of the following activities archery, climbing, orienteering, problem solving and woodland activities for your young people and advise on costs depending on the number of instructors required to deliver the programme that you have agreed.
There is a one time fee* for new locations and if another teacher/department wanted the Outreach Team to visit again in the future this consultation would not be required. We would still discuss learning outcomes etc with the new teacher for any new bookings. This is the same for existing customers.
If the booking is then made and confirmed, we will provide activity specific risk assessments and further communicate over times and access for the day.
*This fee is refunded if the booking is made following the consultation.