Accommodation at Thames Young Mariners
We offer the chance to stay at Thames Young Mariners in one of our incredible Teepee villages or for groups there's also the option to bring your own tents and camp on site.
Teepee Residential
A fantastic new addition to Thames Young Mariners – 'Buffalo Creek' and 'Lake View' Teepee Villages give groups the perfect opportunity to extend their learning experience in a unique residential setting!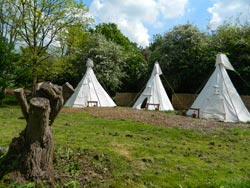 'Buffalo Creek' is nestled amongst the trees and is made up of two medium sized and six larger teepees all named after Native Americans – 'Black Hawk', 'Little Big Horn', 'Lone Wolf', 'Sitting Bull', 'Crazy Horse', 'Jeronimo', 'Pocahontas' and 'Sakajawea'.
'Lake View' is aptly named as it is set overlooking the lake and is made up of two large teepees and three medium sized teepees - all named after birds - 'Moorhen', 'Heron', 'Swan', 'Kingfisher' and 'Mallard'.
The large teepees can sleep between 8 and 10 young people and the two medium teepees sleep between 6 and 8 young people or 4 adults (capacity is subject to gender split and ages of the young people).
Designed to be warm and cosy on cooler nights whilst remaining cool and comfortable on warmer nights; the teepees will be a unique and memorable residential experience for your group.
Both villages are pitched around their own campfires – the perfect place to end each day as a team; drinking hot chocolate and toasting marshmallows whilst reflecting upon the day's achievements. Satellite tents are also available for group leaders.
Camping residentials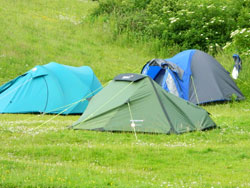 Groups of young people, such as Duke of Edinburgh Award groups, schools or other youth organisations, are able to bring their own tents and camp at all of our centres.
Thames Young Mariners has a large camping area which can accommodate multiple groups at a time. There are toilets, showers, changing rooms and an outdoor, sheltered washing up area available.
This location is ideal for both London and Surrey groups.
Our campsites are not available for use by members of the public.