Blog: About SOLD
---
Published: 10 Nov 2017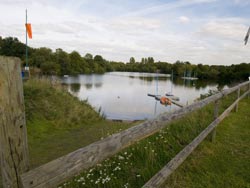 The team here at SOLD are delighted to announce that we have been awarded the Gold Standard Award by AHOEC for all three of our outdoor education centres in Surrey: Henley Fort, Thames Young Mariners, and High Ashurst! Whilst we have achieved this award before, this year feels extra special due to the recognition of our continuity across the centres and our 'one team' approach...
Read full article: Going for Gold: SOLD Accredited by AHOEC
---
Published: 05 Sep 2017
Don't forget to 'like' us to find out the latest news, events and special offers!
Facebook
Twitter
Instagram
Pinterest
Read full article: Follow us on Social Media
---
Published: 23 Sep 2016
Are you looking for a volunteering opportunity in your spare time? Do you like to get into the outdoors? Or meet new people while making a positive difference to your local community?
If you have answered 'yes' to any of the above then how about becoming an estates management volunteer at Surrey Outdoor Learning and Development?
Read full article: Volunteering Opportunities
---
Published: 03 Feb 2016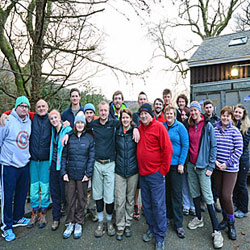 The whole SOLD team have recently graduated from the WorldHost Customer Service training course that has been run at their outdoor education centre, High Ashurst, in Dorking.
Teams from catering, operations, facilities, business support and marketing have successfully completed the course run by WorldHost who are one of the leading companies working hard to transform customer service standards across the UK. While the SOLD team already put the customer firmly at the centre of everything they do, the teams have created action plans for each of their areas to improve the organisation's processes and procedures which will benefit their valued customers even further.
Read full article: Only first class customer service will do for SOLD!
---
Published: 23 Dec 2015
At SOLD we pride ourselves on being green and helping the environment where possible. As a result, this year for the Green Achiever Award we have progressed to 5 stars out of 5 for High Ashurst, 4 stars for Thames Young Mariners and remained at 4 stars for Henley Fort.
This is the fifth year that we have produced a self declaration of environmental commitment to the scheme for green businesses where we have identified and comply with all environmental legislation relevant to our business activities. Over the next 12 months we hope to improve on this further.
For more information about Green Achiever please visit their website.
Read full article: Green Achiever Award for all our centres
---
Published: 23 Dec 2015
Surrey Outdoor Learning and Development were nominated and selected as finalists in this year's Leatherhead and District Business Awards in the Sustainable Organisation of the Year category, sponsored by Unilever.
The Awards Ceremony Dinner took place on Monday 30 November and SOLD were announced as the winners in this category!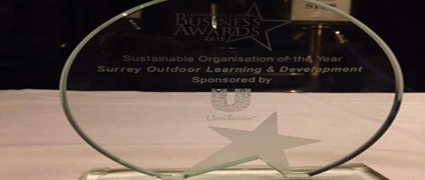 Read full article: SOLD are Leatherhead and District Business Award winners
1