Workshop activities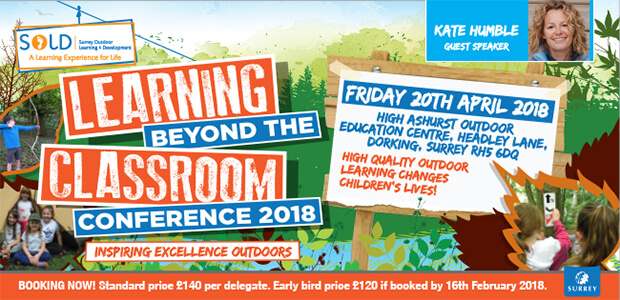 Once you have booked your place at the Learning Beyond the Classroom Conference you will be able to choose up to three of the following workshops to attend (subject to availability).
The workshops
Maths, Mapping and Micro Adventures
Taking the classroom outdoors this workshop will demonstrate how to make better use of your school grounds through simple mapping exercises and challenges. Practical maths in action using measuring, timings, strategic planning and competition.
Natures Numbers
This outdoors is a mathematical playground for naturally curious young people. This workshop will explore the many natural patterns, textures and colours that can be used to solve real life mathematical problems in the outdoors.
Literacy in the Outdoors
Literacy in the Outdoors recognises that the most effective way to embed teaching and learning in the outdoors is not create huge quantities of resources but to plant seeds so that teachers can grow their own ideas. The real barriers to teaching outside are not weather, wind and wellies but confidence and competence. This workshop will equip delegates with practical ideas about how to
best integrate literacy in the outdoors.
Words in the Wilderness
Searching for natures 'lost words' this practical session makes full use of the heightened sensory environment of the outdoors. This workshop seeks to inspire creativity and engagement in literacy activities, even for the most reluctant reader.
Hands on History
The Surrey Hills has a wealth of history and this workshop looks at the evidence of our local history and brings alive the past through practical tasks and exercises, including Roman recipes, ancient shelter building and more.
The Outdoor Laboratory
Using the rich learning medium of a campfire, this workshop will demonstrate the facilitation of complicated scientific concepts through a practical activity. This session will look at safety and the management of your fire and discuss the 'fire triangle', the selection of the correct combustible materials, and an exploration of different forms of ignition. Also examined are the properties of materials and how they can be changed through the application of heat and fire.
Woodland Discovery
Bringing Forest Schools to life, delivered by a Forest School Practitioner. This workshop will have a child centred approach and will cover the key elements of an inspiring Forest School session including natural art, safe use of tools, fire lighting and cooking.
How to deliver OAA (Outdoor & Adventurous Activity) in PE – KS2
This workshop will help you to understand the requirements of delivering the new OAA Unit at Key Stage 2 and give you some simple ideas for planning and delivering this unit in a progressive way for each year group in your school grounds. If you are feeling unsure about the requirements for this unit or just don't know where to start with it, this workshop is for you.
Eco Schools – Going Green
The introduction to Eco - Schools workshop offers an excellent opportunity for newcomers to the Eco - Schools programme to equip themselves with the knowledge and confidence required to introduce it into their schools. Delegates who are already involved in Eco
- Schools but who have not yet applied for a Green Flag Award may benefit from brushing up on existing knowledge. We will look at how to implement the 'Seven step process' and ways to help Eco Committee achieve the Bronze and Silver award levels.
Easy Ecology for Teachers
This workshop aims to provide both knowledge and ideas for engaging outdoor sessions on ecology. We will focus on how primary school teachers can use their school grounds to deliver curriculum linked science themes using plants - given that most schools have access to at least a small amount of green space. Through games and activities we will cover aspects such as identification and classification, what a plant needs to grow and complete its life cycle, their place in the food chain and a look at the many adaptations plants have to survive in our climate.
Junior Achievement Challenge (JAC)
JAC is a multi - stage award scheme which provides all 9-13 year olds with the opportunity to develop a range of skills to support them throughout their lives. The JAC programme is split into five sections; Fitness Challenge, Adventure Challenge, Skills and Hobbies Challenge, Eco Project and Community Project. The JAC award is designed to enhance and stimulate the individuals learning and develop lifelong skills and support character education. Our carefully structured programme of progressive projects and challenges, inspire, encourage and educate the children to succeed, regardless of gender, ability or ethnicity.
Going for Gold - Achieving the Learning Outside the Classroom (LOtC) Mark
The workshop will be by Charlotte Willoughby of Wood Street Infants School who achieved Silver LOtC mark this year and has aspirations for going for GOLD! Charlotte will talk about her experience of achieving the award and how it has helped to develop and embed outdoor learning into the school curriculum . This workshop will be ideal for anyone considering going for the LOtC
mark.
Book your place on the Learning beyond the classroom conference