Angel Blue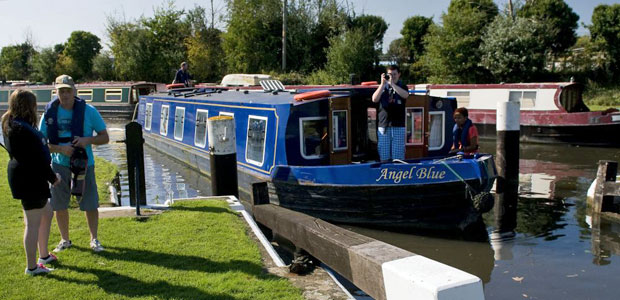 The Angel Blue is a magnificent 63-foot canal boat that voyages down the River Wey Navigation and the River Thames. Mooring anywhere along the banks of the river and canal, the Angel Blue voyages through the most picturesque Surrey countryside.
The Angel Blue is a truly dynamic setting for learning in the natural environment and to get away from the distractions of everyday life.
All aboard the Angel Blue
This is not just a way to explore the peaceful, quiet countryside from the river but it provides an excellent opportunity to develop personal and group skills in a safe controlled environment. As with all our activities, a journey on Angel Blue, whether it is a half-day, full-day or a whole week, is not solely about fun and enjoyment but is a valuable tool in the development of young people.
You will learn to work together as a team, operating the lock gates to move Angel Blue from one stretch of the river to another, mooring up or cooking a meal. You will also become aware of the social skills needed to live as a group in a community environment.
Everyone will have the chance to drive the boat under the guidance of a qualified skipper. The skipper is experienced in working with young people from a variety of backgrounds and with your guidance will design a programme to meet your desired learning outcomes. Due to the size of the boat, the maximum capacity is 11 people.
The Angel Blue is fully-equipped for comfortable residential voyages, with a proper kitchen and dining/lounge area - perfect for those who may wish to self-cater. For overnight journeys there are beds for 10 people, a shower, two toilets and even central heating (not that it is often needed!).
Voyaging with special needs and disabilities
The Angel Blue was purpose-built to accommodate wheelchair users. The boat is boarded via lift access and the specially widened passageway offers easy access to all parts of the craft. The front and rear deck areas each have room for two wheelchairs.
Location of Angel Blue
The Angel Blue is moored at Dapdune Wharf
Dapdune Wharf
Wharf Road
Guildford
Surrey
GU1 4RR
View larger map
SAT NAV details for Angel Blue
Cars and minibuses
SAT NAV users should input the postcode GU2 4RR for accurate directions. There is limited parking for cars and minibuses.
Coaches
There is no access for coaches.
Directions to Angel Blue
Directions (without SAT NAV)
By train
The closest train station is:
Taxis are available if you do not wish to walk.
By coach
There is no direct access to Dapdune Wharf for coaches.