Thames Young Mariners
Outdoor experiences and activities
Established over 40 years ago, this 25 acre site includes a 10 acre lake, alongside the River Thames, between Richmond and Kingston. Thames Young Mariners is surrounded by 200 acres of public open space, which has been designated as a local nature reserve. Located near London, Thames Young Mariners is the ideal location for London borough schools and organisations to visit.
In addition to the land-based activities found at our other centres, Thames Young Mariners offers water-based activities in a controlled environment, providing a unique space for learning and self-discovery in the natural environment. The centre is recognised as a teaching centre by the Royal Yachting Association and the British Canoe Union.
All activities are delivered by our qualified and experienced outdoor education workers. Whether you book for one day, a week or a weekly programme, our staff will facilitate a structured outdoor experience and engage with your group to maximise their learning opportunities.
Activities available at Thames Young Mariners include adventure/night walks, archery, bell boating, canoeing, challenge course, climbing, kayaking, mountain biking, orienteering, raft building, sailing, team tasks and woodland skills. Please find our activity descriptions here.
Activities can be adapted for disabled groups. Further information about our inclusive activities for groups with additional needs can be downloaded here.
What we can offer you at Thames Young Mariners
Teepee residential
A fantastic new addition to Thames Young Mariners – 'Buffalo Creek' and 'Lake View' Teepee Villages give groups the perfect opportunity to extend their learning experience in a unique residential setting!
'Buffalo Creek' is nestled amongst the trees and is made up of two medium sized and six larger teepees all named after Native Americans – 'Black Hawk', 'Little Big Horn', 'Lone Wolf', 'Sitting Bull', 'Crazy Horse', 'Jeronimo',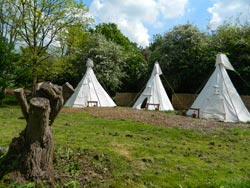 'Pocahontas' and 'Sakajawea'.
'Lake View' is aptly named as it is set overlooking the lake and is made up of two large teepees and three medium sized teepees - all named after birds - 'Moorhen', 'Heron', 'Swan', 'Kingfisher' and 'Mallard'.
The large teepees can sleep between 8 and 10 young people and the two medium teepees sleep between 6 and 8 young people or 4 adults (capacity is subject to gender split and ages of the young people).
Designed to be warm and cosy on cooler nights whilst remaining cool and comfortable on warmer nights; the teepees will be a unique and memorable residential experience for your group.
Both villages are pitched around their own campfires – the perfect place to end each day as a team; drinking hot chocolate and toasting marshmallows whilst reflecting upon the day's achievements. Satellite tents are also available for group leaders.
Camping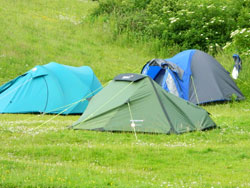 Groups of young people, such as Duke of Edinburgh Award groups, schools or other youth organisations, are able to bring their own tents and camp at all of our centres.
Thames Young Mariners has a large camping area which can accommodate multiple groups at a time. There are toilets, showers, changing rooms and an outdoor, sheltered washing up area available.
This location is ideal for both London and Surrey groups.
Our campsites are not available for use by members of the public.
Catering
We have been awarded the Eat Out Eat Well Gold Standard Award, which means our highly trained catering staff provide healthy eating options – increased fruit and vegetables and decreased fat, sugar and salt. We can cater for most specialised diets, for instance, vegetarians, coeliacs and guests with food allergies. All meals are freshly prepared on site. Please discuss any special dietary requirements with us at least 2 weeks ahead of your booking, to ensure that we have the information at our fingertips to cater for all your needs.
When you check in your sitting time/s will be given to you, but meals are usually served between:
7.30am and 9.00am for breakfast
12.00pm and 1.30pm for lunch
5.30pm and 7.00pm for evening meal
If you require meals outside of these hours please arrange these in advance with the Bookings office. The kitchen is closed between meal times and if your group does miss a meal a charge will still be made.
Meal packages start with evening meal on day one and then breakfast and lunch on day two. This cycle repeats for the duration of the visit. If you require a packed lunch on day one of your visit this will need to be requested as an addition.
Please find sample menus for group visits here.
A self-catering option is available to groups, however this option is not available for groups undertaking teepee residentials if the use of a kitchen is required to prepare and cook food.
For more in-depth information about catering for meetings and conferences please visit our catering for meetings and conferences web page.
Meeting spaces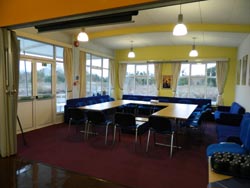 We offer a range of formal and informal meeting and conference facilities at Thames Young Mariners, with small meeting rooms which can seat up to 10 people to a large meeting/conference room which can seat a maximum of 35 people.
We can provide on-site catering for meetings and conferences.
For more in-depth information about our meeting and conference facilities, including catering information, at Thames Young Mariners please visit our meetings and conferences web page.
Location of Thames Young Mariners
Thames Young Mariners Outdoor Education Centre
Riverside Drive
Ham
Richmond
Surrey
TW10 7RX
View larger map
SAT NAV details for Thames Young Mariners
Cars, minibuses, mini-coaches and coaches
SAT NAV users should input the postcode TW10 7RX and also Riverside Drive for accurate directions. There is on-site parking for cars, minibuses and mini-coaches as well as access for coaches.
Directions to Thames Young Mariners
Directions (without SAT NAV)
Thames Young Mariners is located between Kingston and Richmond and is a short distance from London.
By train
The closest train station is Teddington. This is followed by a 20 minute walk via Teddington Lock foot bridge.