Henley Fort
Outdoor experiences and activities
Henley Fort is a Victorian Fort built during the late 19th Century to protect London from invasion by the French; later it was used by the Home Guard in World War 2 as a re-supply depot. It is now an outdoor education facility offering groups a chance to take part in challenging activities or a living historical experience.
The centre is located on the Hog's Back high above Guildford and not only offers a wide range of centre based activities but also the chance to explore the surrounding countryside and the Wey Navigation (canal). The Victorian Fort provides a stunning setting for our Home Guard history days.
All activities are delivered by our qualified and experienced outdoor education workers. Whether you book for one day, a week or a weekly programme, our staff will facilitate a structured outdoor experience and engage with your group to maximise their learning opportunities.
Activities available at Henley Fort include: adventure/night walks, archery, canal boating, canoeing, challenge course, climbing and abseiling/bouldering, mountain biking, orienteering, team tasks, woodland skills and the 1940's World War 2 Home Front experience. Please find our activity descriptions here.
Activities can be adapted for disabled groups. Further information about our inclusive activities for groups with additional needs can be downloaded here.
What we can offer you at Henley Fort
Yurt residential
Henley Fort's new Mongolian Yurts provide the opportunity for a unique residential stay.
Comprising of large and medium sized yurts, the new village of ten yurts promises a delightful residential experience, high on the Hog's Back in Guildford with far reaching views. Each yurt has been traditionally and ethically made by experienced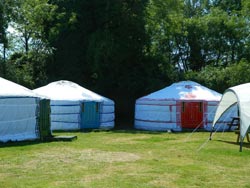 craftsman in Mongolia, including beautifully painted roof beams and front door for an authentic look and feel. Cool in the summer and warm in the winter months, each yurt has four layers of traditional materials to keep it watertight - breathable but ultimately comfortable all year round.
Each yurt sleeps between 8 and 12 people in sturdy bunk beds, has several bean bags, hanging storage, internal rope lighting and a heater for the cooler months. There is also a marquee available in the Yurt Village for groups to meet during free time. Female and male toilets and showering facilities are next to the village.
The Yurt Village is also used for our World War 2 Evacuee Residential experience.
Residential visits in the Yurt Village are available all year round.
Camping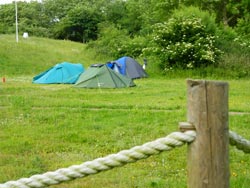 Groups of young people, such as Duke of Edinburgh Award groups, schools or other youth organisations, are able to bring their own tents and camp at all of our centres.
Henley Fort has a large camping area which can accommodate multiple groups at a time. A washing up area, toilets and showers are available.
Our campsites are not available for use by members of the public.
Catering
We have been awarded the Eat Out Eat Well Gold Standard Award, which means our highly trained catering staff provide healthy eating options – increased fruit and vegetables and decreased fat, sugar and salt. We can cater for most specialised diets, for instance, vegetarians, coeliacs and guests with food allergies. All meals are freshly prepared on site. Please discuss any special dietary requirements with us at least 2 weeks ahead of your booking, to ensure that we have the information at our fingertips to cater for all your needs.
When you check in your sitting time/s will be given to you, but meals are usually served between:
7.30am and 9.00am for breakfast
12.00pm and 1.30pm for lunch
5.30pm and 7.00pm for evening meal
If you require meals outside of these hours please arrange these in advance with the Bookings office. The kitchen is closed between meal times and if your group does miss a meal a charge will still be made.
Meal packages start with evening meal on day one and then breakfast and lunch on day two. This cycle repeats for the duration of the visit. If you require a packed lunch on day one of your visit this will need to be requested as an addition.
Please find sample menus for group visits here.
A self-catering option is available to groups, however this option is not available for groups undertaking yurt residentials if the use of a kitchen is required to prepare and cook food.
For more in-depth information about catering for meetings and conferences please visit our catering for meetings and conferences web page.
Meeting spaces
We offer both formal and informal meeting and conference facilities at Henley Fort, with a small meeting room which can seat up to 8 people and a large meeting/conference room which can seat a maximum of 45 people.
We can provide on-site catering for meetings and conferences.
For more in-depth information about our meeting and conference facilities, including catering information, at Henley Fort please visit our meetings and conferences web page.
Location of Henley Fort
Henley Fort Outdoor Education Centre
The Mount
Guildford
Surrey
GU2 4RH
View larger map
SAT NAV details for Henley Fort
Cars, minibuses and mini-coaches
SAT NAV users should input the postcode GU2 4RH which will take you to the turning circle halfway up The Mount. Once you get to the turning circle please continue onto the bridleway until you reach Henley Fort. There is limited on-site parking for cars, minibuses and mini-coaches.
Coaches
There is no access for coaches. Please see the directions tab for the location of the coach drop off point.
Directions to Henley Fort
Directions (without SAT NAV)
By train
The closest train station is:
Taxis are available if you do not wish to walk.
By coach
There is no direct access to Henley Fort for coaches. However, we can meet your group at the drop off point to start a guided walk to the centre. If coming for a residential we will collect your luggage and transfer it to the centre while you undertake your guided walk. This must be booked and arranged in advance so our instructors know to meet you.
Download directions to the coach drop off point - please give these to your coach company.