High Ashurst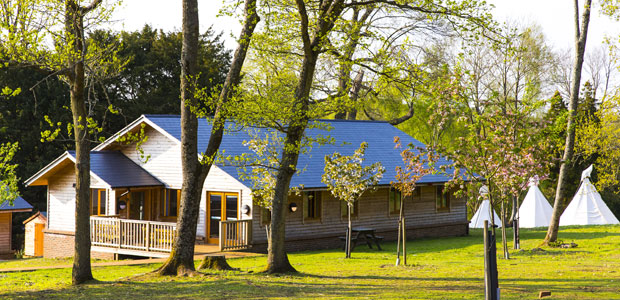 High Ashurst Outdoor Education Centre is set in 56 acres of woodland on Box Hill, near Dorking, in the tranquil Surrey Hills 'Area of Outstanding Natural Beauty'. The site has a colourful history with records dating back to 1706. Today High Ashurst is a wonderful wide-open space for learning and self-discovery in the natural environment.
Outdoor experiences and activities
The centre offers a wide range of activities, including high ropes and a new state of the art climbing tower. The adjacent heathland is ideal for mountain biking and orienteering. All our activities are delivered by qualified and experienced outdoor instructors. Whether you book for one day, a week or a weekly programme, our staff will facilitate a structured outdoor experience and engage with your group to maximise their learning opportunities.
Activities available at High Ashurst include: adventure/night walks, archery, challenge course, climbing and abseiling, high ropes, mountain biking, orienteering, team tasks and woodland skills. Please find our activity descriptions here.
Activities can be adapted for disabled groups and there is an off-road wheel chair trail and orienteering course. Further information about our inclusive activities for groups with additional needs can be downloaded here.
What we can offer you at High Ashurst
TAZ holiday activities and clubs
Our new programme for 2017 is an action-packed adventure week, consisting of a range of activities (including archery, climbing, team games, survival games, woodland walks, treasure hunts, low and high ropes) to suit all age groups from 6 to 16.
You can choose to book a full five days or pick and choose specific days. There is also the option of an early start or to extend the day - see the webpages for further details.
>> See the TAZ pages for further details
Duke of Edinburgh Gold Residential
We offer action-packed, outdoor activity programmes at High Ashurst.
Our experienced instructors will be on hand to help you to achieve your greatest potential, step out of your comfort zone and learn new skills while you meet new friends en route to completing your award.
Please see our Duke of Edinburgh section for details of what we can offer.
Log cabin residential
Our deluxe log cabins were built in 2010 to the highest environmental standards. Insulated and double-glazed for energy efficiency, the cabins also feature wood-fueled heating run on sustainable locally-sourced wood pellets.
We are set on surpassing your expectations! Each cabin is beautifully furnished, spacious and comfortable – the perfect place to relax and unwind after an exhilarating day in the outdoors! A home away from home.
Horizon, Outlook and Viewpoint
Our three deluxe log cabins, Horizon, Outlook and Viewpoint, each sleep up to 20 people (including two group leaders) in six bedrooms. You will sleep comfortably in sturdy wooden bunks and each bedroom has armchairs or plush bean-bags as well as an en-suite bathroom. You will find fresh laundered linen for the beds.
There is a spacious living room where you can chill out on the giant bean-bags or gather on the sofas to plan for the day ahead, or relax from your fun day at High Ashurst. Each cabin has a kitchenette equipped with a small fridge, kettles, toasters, fruit squash and plenty of hot chocolate, tea and coffee. When staying in our log cabins it is compulsory to book our on-site catering as the kitchenettes are not equipped for self-catering.
Pinnacle
Pinnacle was built with funding from Surrey Short Breaks for Disabled Children. The cabin is equipped with state-of-the-art technology to ensure that those with high mobility needs can stay in comfort.
Pinnacle can sleep up to 20 guests (including two group leaders), in four bedrooms which contain comfortable bunks and electrically adjustable single beds. All bedrooms are equipped with underfloor heating and en-suite bathrooms with adjustable height basins and showers.
There is a spacious lounge area for relaxing and a kitchenette with an adjustable height sink, suitable for preparing hot drinks and snacks.When staying in our log cabins it is compulsory to book our on-site catering as the kitchenettes are not equipped for self-catering. There is also a washing machine and drier, a lockable medicine fridge and cupboard. The lounge area has comfortable sofas and bean-bag seating overlooking the wonderful outdoors at High Ashurst.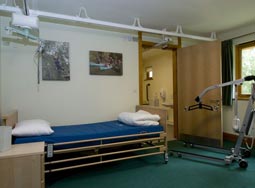 Pinnacle is equipped with facilities that are especially designed for young people and adults with a range of higher need disabilities and special educational needs. This cabin offers flexible, yet very accessible and functional facilities which include:
power-assisted internal and external doors
flexible sleeping accommodation containing a combination of bunks, single beds and electrically adjustable beds
state-of-the-art electric ceiling hoisting system, allowing for seamless mobility from bedroom to bathroom
adjustable height sinks and basins in the kitchen and bathrooms (wet rooms)
en-suite bathrooms with wet area shower, separate bath and changing trolley, toilet and basin.
Teepee residential
High Ashurst's beautiful white canvas teepees are a unique alternative to conventional tent camping.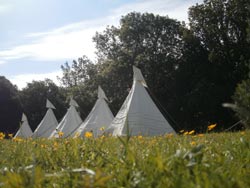 Arranged in two 'villages', the teepees are nestled amongst the trees on the 56-acre site. The teepee villages are arranged to allow groups of young people to enjoy the unique atmosphere of a tented encampment. Each village consists of six large teepees – sleeping 8-10 young people and two small teepees sleeping 6-8 young people or 4 adults (capacity is subject to gender split and ages of the young people).
High Ashurst now offers full on-site catering, so that teepee campers can take advantage of breakfast, packed lunch and dinner in the new dining hall. Alternatively, a self-catering option is also available with camp kitchen style equipment within a marquee alongside the village.
Each teepee village has its own marquee area for cooking and socialising around the campfire. Satellite tents are also available for group leaders.
Camping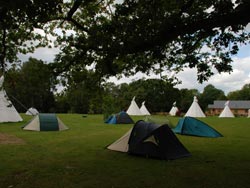 Groups of young people, such as Duke of Edinburgh Award groups, schools or other youth organisations, are able to bring their own tents and camp at all of our centres.
High Ashurst has three camping areas with new shower, toilet and washing up facilities available.
Our campsites are not available for use by members of the public.
Catering
We have been awarded the Eat Out Eat Well Gold Standard Award, which means our highly trained catering staff provide healthy eating options – increased fruit and vegetables and decreased fat, sugar and salt. We can cater for most specialised diets, for instance, vegetarians, coeliacs and guests with food allergies. All meals are freshly prepared on site. Please discuss any special dietary requirements with us at least 2 weeks ahead of your booking, to ensure that we have the information at our fingertips to cater for all your needs.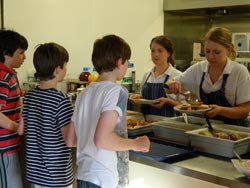 When you check in your sitting time/s will be given to you, but meals are usually served between:
7.30am and 9.00am for breakfast
12.00pm and 1.30pm for lunch
5.30pm and 7.00pm for evening meal
If you require meals outside of these hours please arrange these in advance with the Bookings office. The kitchen is closed between meal times and if your group does miss a meal a charge will still be made.
Meal packages start with evening meal on day one and then breakfast and lunch on day two. This cycle repeats for the duration of the visit. If you require a packed lunch on day one of your visit this will need to be requested as an addition.
Please find sample menus for group visits here.
A self-catering option is available to groups, however this option is not available for groups undertaking log cabin residentials.
For more in-depth information about catering for meetings and conferences please visit our catering for meetings and conferences web page.
Meeting spaces
We offer a range of formal and informal meeting and conference facilities at High Ashurst, with small meeting rooms which can seat up to 12 people to a large meeting/conference room which can seat a maximum of 96 people.
We can provide on-site catering for meetings and conferences.
We have limited Wi-Fi access at High Ashurst (in the main building and meeting rooms).
For more in-depth information about our meeting and conference facilities, including catering information, at High Ashurst please visit our meetings and conferences web page.
.
Location of High Ashurst
High Ashurst Outdoor Education Centre
Headley Lane
Mickleham
Dorking
Surrey
RH5 6DQ
View larger lap
SAT NAV details for High Ashurst
Cars, minibuses and mini-coaches
SAT NAV users should input the postcode RH5 6DG for accurate directions to the entrance to High Ashurst's driveway. There is limited on-site parking for cars, minibuses and mini-coaches.
Coaches
There is no access for coaches. Please see the directions tab for the location of the coach drop off point.
Directions to High Ashurst
Directions (without SAT NAV)
*This is a strict one way system, and is not the preferred route into the centre.
By train
The closest train stations are:
Dorking (main)
Dorking Deepdene
Box Hill and Westhumble
Betchworth
Leatherhead
Taxis are available at Dorking (main) and Leatherhead stations.
By coach
There is no direct access to High Ashurst for coaches. However, we are happy to arrange a minibus pick-up from an accessible local car park at Rykas Cafe for such groups. This must be booked and arranged in advance.
Download directions to Rykas Cafe car park - please give these to your coach company.
Contact the business support team
Should you have any questions about any aspect of a visit to High Ashurst please contact our Business Support team during office hours.