News and events
Keep up to date with the latest news and events and find out how you can get involved!
---
19 Jul 2017
It looks set to be a scorcher of a summer holiday this year, and what better way for your kids to spend the fine weather and their school holidays than at an exciting new overnight adventure camp in Surrey? Here at TAZ, we are constantly trying to come up with different and exciting ways for your children to spend their free time in the summer holidays, and this year is no exception!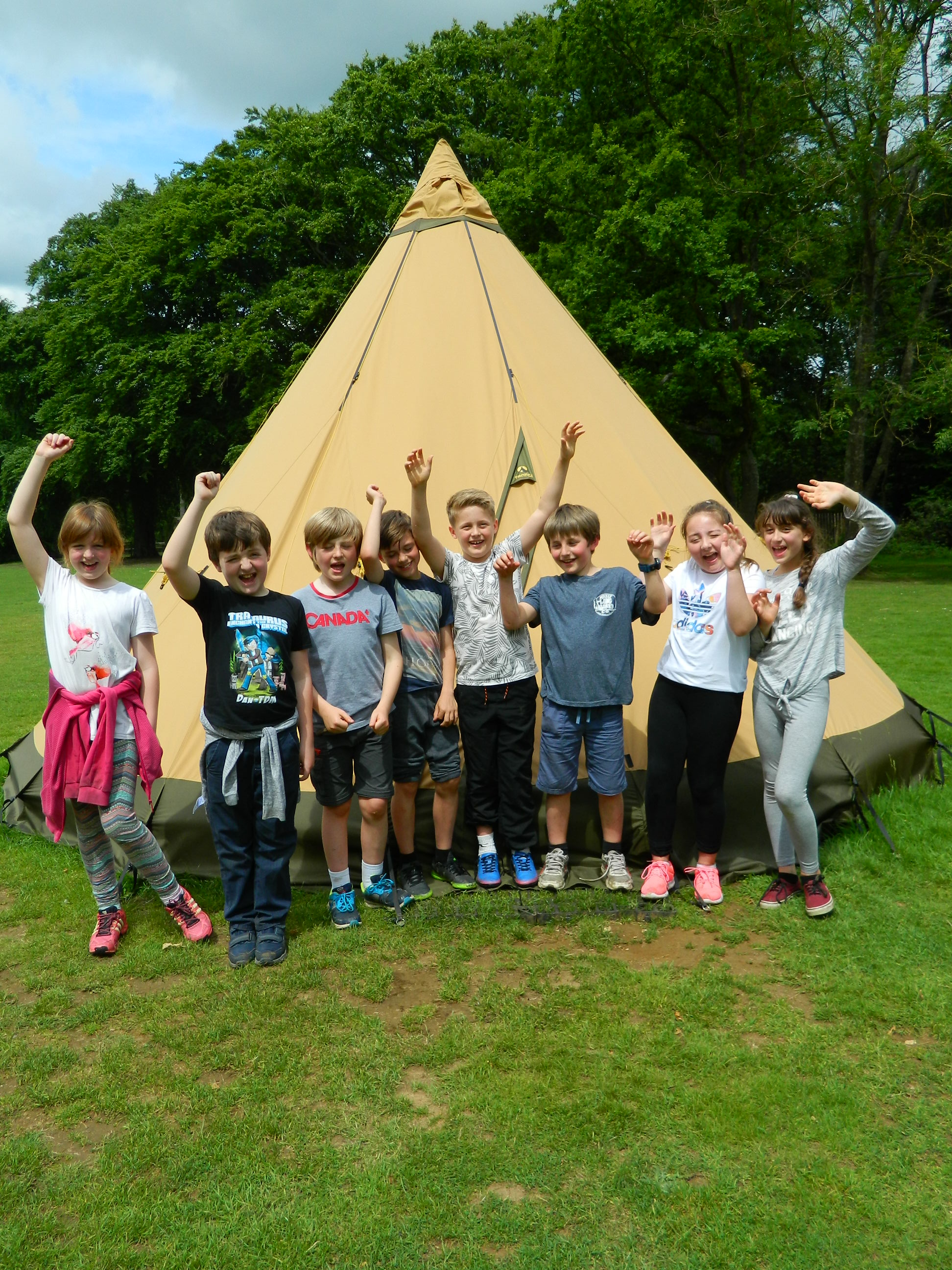 We are excited to introduce a brand new adventure activity for summer 2017, which features a whole host of exciting activities for any daring explorers aged 8 - 16 who are looking to get outside, go exploring, and do some fun new activities!
The Thames Young Mariners to High Ashurst residential features three action packed days of activities and two nights spent under the stars in our new canvas teepee village 'Base Camp' – making it perfect for children who want to experience a traditional overnight summer camp, but don't want to go all the way to America to do so!
This brand new camp runs every Wednesday to Friday during the summer holidays, and is available to all 8-16 year olds, who'll then be grouped into Junior (8-11) and Senior (11-16) Explorers, so they can enjoy age appropriate activities with their peers. The adventure starts and finishes at our Thames Young Mariners outdoor education centre in Richmond, with the rest of the activities being held at High Ashurst near Dorking.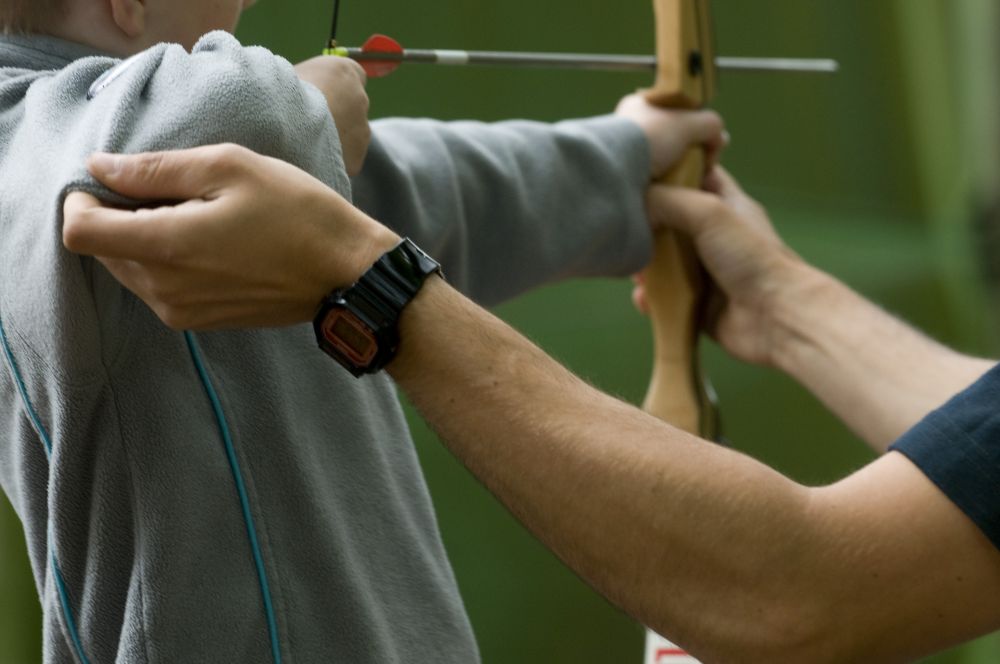 Explorers can expect to take part in team challenges, high ropes, archery, bushcraft, abseiling, raft building, racing, mountain biking, and much more! Evenings will have more of a relaxed vibe, with a traditional camping feel as everyone helps to collect firewood then sits round a campfire to toast marshmallows and popcorn together!
Of course, in order to make sure that your kids have not only a brilliant time, but also a safe one too, we guarantee that there will be full supervision at all times by a qualified instructor, including overnight at Base Camp.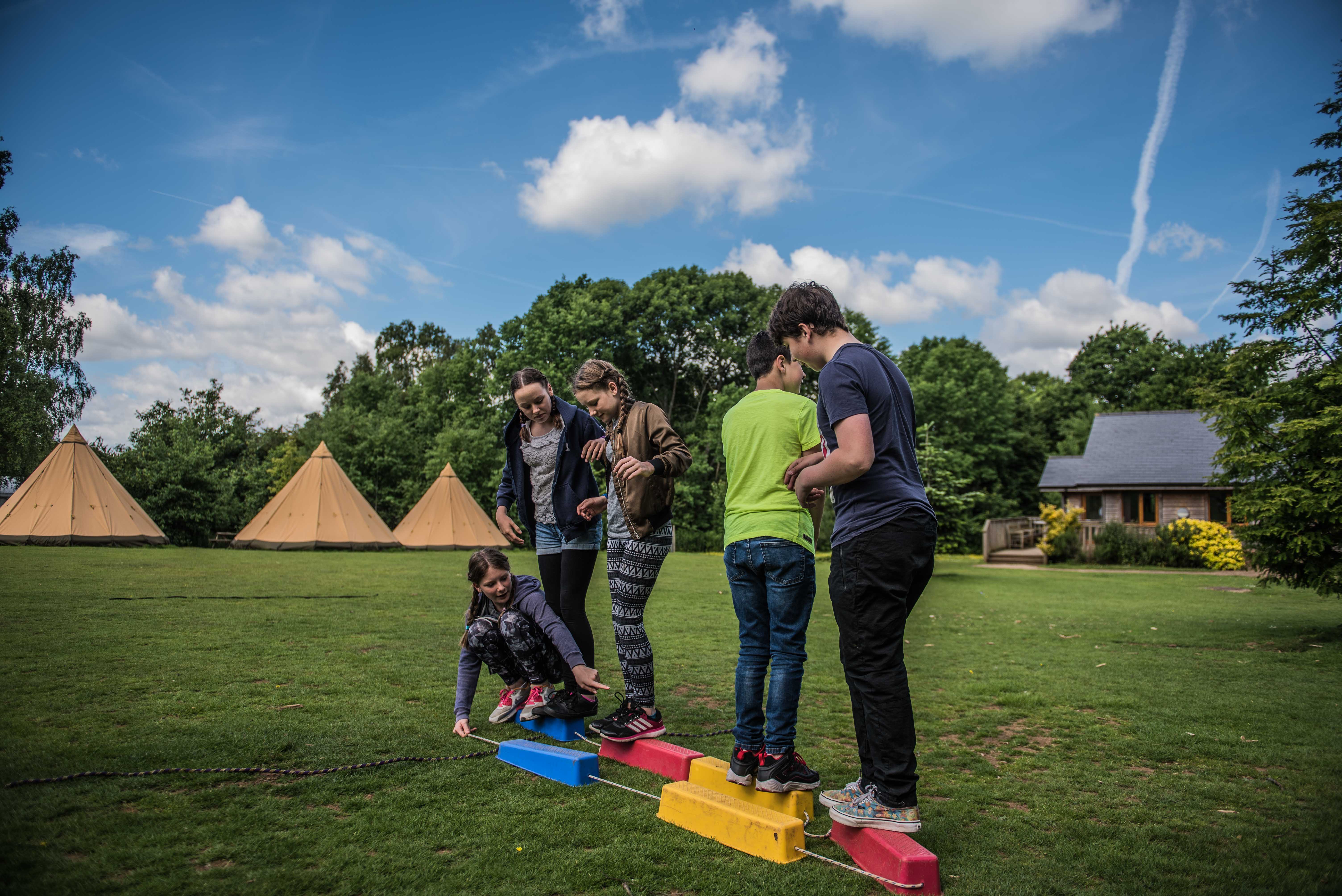 We're really excited to be sharing this new adventure with you all and are currently running an introductory offer to celebrate - if you book now you can save £50 per person, and pay only £199 instead of the usual price of £249. This is all-inclusive, meaning activities, travel, accommodation, and meals will be no extra charge (though children must bring their own sleeping bag and a packed lunch on the first day)!
TAZ always strives to offer interesting and fun activities for kids to enjoy, including this awesome new summer camp in Surrey! If you're intrigued by our latest news, then you can book and find more information about our fantastic summer camp, including requirements and example timetables, right here on our website. You're also welcome to contact our team with any further questions or enquiries you may have, and we'll be happy to help!
---
13 Jul 2017
Now's the perfect time to be looking for school holiday clubs in Surrey; with the school summer holidays fast approaching, your kids will want something to fill their time off, and TAZ has the perfect solution! Our action packed Summer of Adventure week at High Ashurst will give your child the time of their lives, and an opportunity to make many friends and happy memories. So, what exactly does each exciting day of the week entail for your 6 – 16-year-old?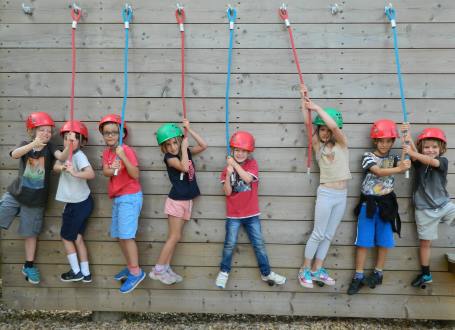 Monday: Team Adventure
Get to know your new friends on the first day of the week with our Team Adventure! With an obstacle course, team-building adventures, rope crossings, and orienteering, it's sure to be a jam-packed day of fun.
Tuesday: Everest Adventure
Those who love to climb will certainly enjoy the dizzying heights of our very own Everest challenge! Build a tower with your team, take the bouldering challenge, confront our climbing wall, and then abseil down to victory!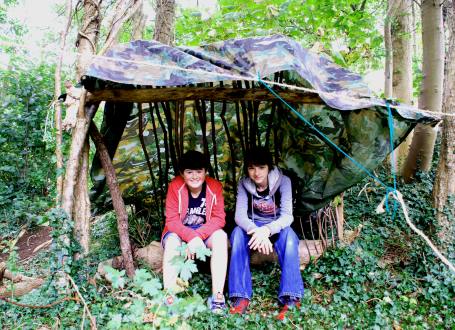 Wednesday: Forest Adventure
Ever wondered what it was like for Robin Hood and his Merry Men? Well, this is your chance to find out! Learn all about bushcraft, explore the mysterious depths of our 56-acre forest, and prove your skills in the scavenger hunt! We'll teach you how to shoot a bow and arrow, how to build a fire, how to identify insects/edible plants, how to build a shelter, and how to survive in a forest!
Thursday: Vertical Adventure
If you've always admired Tarzan, then this is the adventure for you! Climb to the top of our high ropes course and swing through the treetop canopy as you traverse rope obstacles and platforms! Finally, work with your team to grab the trapeze bar together!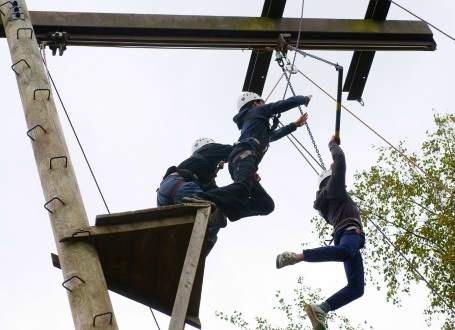 Friday: Mission Survival
Prepare to make your way through the wilderness and find your way back to base camp with nothing but a map, compass and your navigation skills (okay, your instructor will be there too!). Test your skills as a real explorer and solve puzzles and challenges along the way as you race to be the first one back!
Base Camp
After a long day of pushing yourself, now's the time to relax and unwind; collect firewood, build a campfire, and roast marshmallows and popcorn! Spend the evening playing games, learning more bushcraft and even joining in a sing-along or two - and maybe a night walk on the heath spotting bats and other creatures that come out at night!
TAZ is proud to be able to offer fantastic school holiday clubs in Surrey, available for booking now. There's so much to do at all our clubs that your little ones may not want to leave, which is why we provide an overnight stay option for a real residential experience! We also offer early drop-offs and late pick-ups at High Ashurst, to help fit in with the schedules of working parents.
---
08 Jun 2017
It can be difficult for children to get enough fresh air and contact with the environment in the capital, which is why the team at SOLD are delighted by any projects that promote outdoor learning in London, such as the famed 'Secret Garden' in Battersea.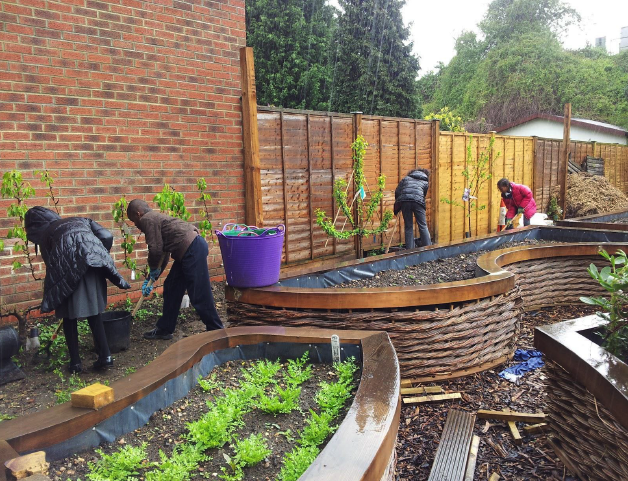 Meet Colette Morris, headteacher of Christ Church Primary School, Battersea, who has managed to transform not only an abandoned lot, but also the entire atmosphere at her school, with just a little help from gardening and outdoor learning! You may recognise Colette from her fantastic presentation at our recent Learning Beyond the Classroom Conference in April where she talked about her "Secret Garden", a project that has been so successful and had such an impact that it has even been featured in The Guardian!
The journey began when the school acquired a nearby abandoned allotment - one in such a state of disrepair that children actually couldn't enter it on its official opening day! Following a number of grants, becoming a Royal Horticultural Society Partner School (and receiving practical help from RHS advisers, and professional training for teachers about gardening and integrating it into the curriculum), and a lot of hard work, the lot is now a flourishing garden, boasting many fine plants, including pumpkins, apple trees, raspberry bushes, and even a cabbage patch.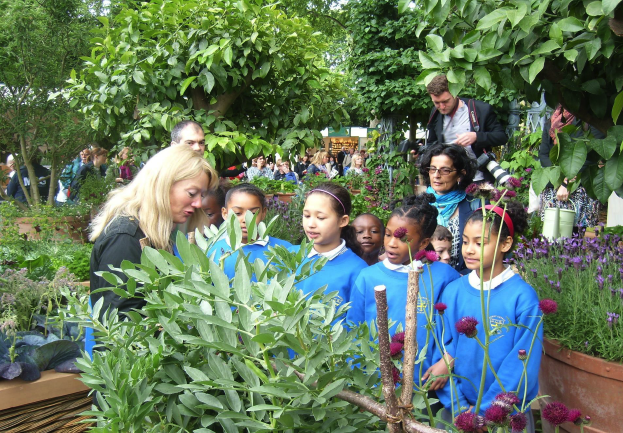 Aside from the garden being used in conjunction with various classes, the children have to employ a variety of skills when working in the garden, including everything from maths, to patience, to teamwork; Colette also reports that it is fantastic inspiration for children engaging in creative work like writing!
Currently, there are 15 members in the school's official garden club, but since the garden has been included in the curriculum, every student gets to experience the outdoors regularly and reap the benefits of doing so. In fact, the children are vocal about their love of time spent in the garden, and teachers have seen improvements in students with behavioural issues, as well as a greater appreciation for flora and fauna, and an increased effort against food wastage.
Due to the urban environment of London, many children at the school don't have their own garden at home, and the community, in general, do not eat many vegetables, which is another area that the secret garden really helps with - children get a chance to experience green spaces and wildlife, and the school provides recipes for parents to try at home to introduce less well-known fruits and vegetables for students to try, like chard. The school are is planning to teach students how to make chutneys for them to sell!
For more information about setting up your own school garden, you can find various guides and tips by GrowVeg, The Growing Schools Garden and Garden Organic.
If you're looking to promote outdoor learning London amongst your own school or class, then why not take a look at the ways that SOLD can help you? We have a number of courses and training days specifically targeted for educators to help you to fit outdoor learning into your curriculum so that your pupils (and you!) can see the benefits! Contact us today for more information on booking, or if you have any queries about what we do, we're always happy to help!
---
30 May 2017
The summer holidays are fast approaching, which can only mean one thing: children at a loose end (though still with plenty of pent up energy!) chanting "I'm bored" at regular intervals - which is why you need to be planning out their school holiday activities as soon as possible. This is where The Adventure Zone (TAZ) comes in, and we're proud to announce an answer to your school holiday problems - our brand new Summer of Adventure activities at High Ashurst!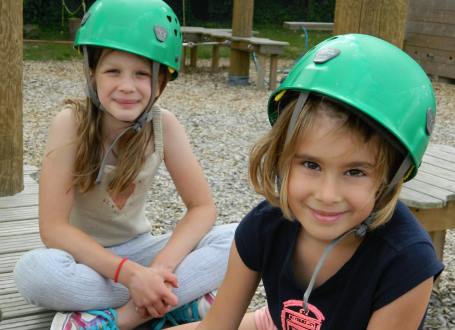 Introducing our brand new Adventure Week at High Ashurst for inquisitive, energetic children of all ages who enjoy a challenge! Junior and senior explorers who don't want the fun to end come sundown can even stay overnight in our new teepee village 'Base Camp' for two nights of the week!
Each day presents a different and unique adventure, with a range of different exciting activities that get children up and moving, as well as kick-starting their brains and encouraging social interaction. The summer programme offers a variety of age-specific activities to give children the right balance of fun and challenge so they can fully benefit from the experience, though all will be focused on teamwork, skill building and boosting self-esteem amongst children. TAZ explorers can expect to take part in various activities throughout the week including bushcraft, climbing and bouldering adventures, archery, orienteering, 'survival' missions, team building activities, puzzles, challenges and high ropes courses.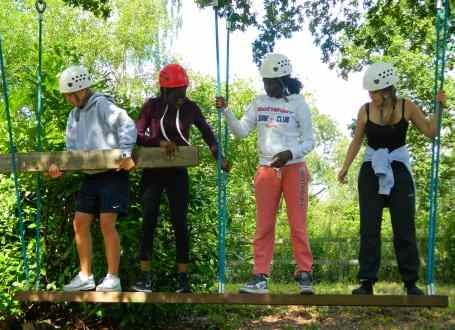 Excited explorers can be booked in for a whole week, and those with other commitments can pick and choose certain days to attend, though, in order to qualify for an overnight stay in our teepees, two consecutive days must be booked together!
So, what are you waiting for? Get booking!
TAZ is a first class provider of school holiday clubs in Surrey (and at Thames Young Mariners in Ham, near Richmond), as well as a provider of water-based activities, team building days, forest school sessions, and much more! If you require any further information about what we do or have any specific requirements/queries, then you can simply contact us online or by phone.
---
16 May 2017
Here at SOLD, we are proud to be able to offer a range of outdoor learning courses for teachers who are looking to expand their pupils' experiences and positively encourage their development. Of course, aside from hands-on courses, we also offer conferences to those working in relevant fields of education, to allow the sharing of ideas and to celebrate the concept of learning outside the classroom. In fact, the end of last month saw a highlight in our annual conference calendar, as the Learning Beyond the Classroom conference returned for 2017. In case you missed it, we've gone through a quick recap of the event in the following blog.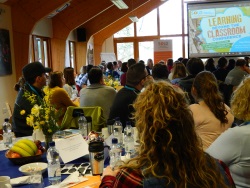 On the 21st April 2017, almost 100 enthusiastic teachers and educators gathered at High Ashurst outdoor education centre near Dorking, Surrey for the Learning Beyond the Classroom Conference, to share in the ideas and knowledge of those with years of experience in outdoor education. The day started with a bit of at 8:15 am, with the chance to mingle over a light breakfast and refreshments. At 9:00 am sharp we kicked off with the main event, hearing inspiring words of wisdom on outdoor education from our guest speakers.
Jo Lewis' talk regarding the Natural Connections Demonstration Project gave us the data surrounding outdoor learning, and confirmed what most educators already know - that learning outside of the classroom can have a positive impact on children's health and well-being, overall character, outlook on school, and even attainment, as well as provide benefits for the teachers too, including better relationships with their students. Lewis acknowledged possible obstacles to outdoor learning (including budget, lack of teacher confidence, and time constraints), but spoke of how they can be overcome with the correct support and resources. Indeed, she gave a brilliant example of a recently completed large partnership research project focused on helping school children - particularly those from a disadvantaged area - experience the benefits of the natural environment by empowering teachers to bring the outdoors into everyday learning.
Headteacher Collette Morris provided ideas for a number of 'secret garden' activities and spoke about how outdoor learning has revolutionised the curriculum at Christchurch Primary School – in fact, her teachers regularly have their lessons outside, as they can always find a relevant link with the different areas of the curriculum and the outdoors. Her students have also been involved in a number of large-scale projects that helped form a tight-knit community – in particular, they grow their own vegetables, which gives them the opportunity to see the literal fruits of their labour as well as feel a sense of pride and accomplishment. This also provides a more tangible reward for the children's time and effort than the usual check marks and test scores! Morris was even kind enough to give examples of questions to ask children of different ages to further engage them in the natural world.
Before joining Learning Away, Peter Carne was a teacher of Geography at two London comprehensive schools, managed a residential on the banks of Loch Awe in Scotland, set up and managed Greenwich's Environmental Curriculum Service and worked for Learning through Landscapes (the school grounds charity) as Head of LTL in London and later as Director of Operations, making him uniquely qualified to give an insight into the impacts of Brilliant Residentials. After highlighting the key figures from Learning Away's Brilliant Residentials campaign, Carne urged all attendees to pledge support to this fantastic initiative, and shared recommendations on the best ways to get involved.
Professor Tim Gill's presentation was all about risks; how we can learn to manage them and teach children how to assess them. He believes that we cannot keep children safe from everything all the time, but that we can give them the tools they need to keep themselves safe when the situation arises, and that outdoor learning can help with this. It can help them learn about themselves, including their weaknesses and how to overcome them, and strengthen their problem solving so that they're better prepared for future risks that aren't controlled by us. His talk really encouraged us to push comfort zones and attempt to find an acceptable risk level for children to work with rather than attempt to eliminate risk altogether.
After some light refreshments, the rest of the day was devoted to a number of practical and theoretical workshops. Some of these, including "Messy Maths", "Hands on History", "Words in the Wilderness", and "Ecology and Food Chains", looked at interactive and interesting ways to incorporate outdoor learning into typically desk-bound subjects of the curriculum. That's not to say that the more immersive subjects were ignored, though, with "The Science of Combustion", "Wild Art", and "Jungle Gym" giving attendees the opportunity to try outdoor activities that fit in with Science, Art and PE respectively. Other workshops were more theoretical, exploring important subjects such as "Developing your School Grounds for Outdoor Education", "How to make your residential 'Brilliant'", all about "Eco-Schools", and how to carry out a balanced Risk Benefit Assessment.
It was a jam-packed day, but a fantastic conference, and we already can't wait to do it all again next year. In the meantime, happy teaching!
Surrey Outdoor Learning and Development (SOLD) are dedicated to enriching the lives of young people and raising awareness of the benefits of outdoor learning, which is why we offer outdoor learning courses for teachers as well as experiences and residentials for schools and youth groups. If you'd like to receive some training of your own to help supplement your curriculum, then take a look at the professional courses we have on offer and book today!
Further information about what we do can be found elsewhere on our site, or you can also contact us directly with your enquiries, and we would be happy to help.
Keynote speakers
Peter Carne OBE - Learning Away - 'What makes a brilliant residential?'
Victoria Wilcher - Council for Learning Outside the Classroom - 'How and why to implement and outdoor learning policy in your school'
Kevin D Boyle - Headteacher & OFSTED inspector - 'How to demonstrate the benefits of outdoor learning to OFSTED'
David Hodgson - Master Practitioner and trainer of neuro-linguistic programming - 'Outdoor learning and learning styles'
Available downloads
---
03 May 2017
Everyone knows that the team here at SOLD (and TAZ!) are big advocates of outdoor learning, so we are thrilled to see awareness growing amongst parents of the different ways that spending time outside can benefit children, particularly in terms of aiding their vital early stages of development. In particular, forest schools seem to be taking the nation by storm – and we know from first-hand experience just how well this form of teaching works for children from nursery age upwards. Indeed, we run weekly "Little Squirrels" forest school sessions for parents and toddlers at our Thames Young Mariners Outdoor Learning Centre, packed with outdoor activities that offer an exciting new alternative to traditional playgroups for toddlers in Richmond. So, just what are some of the benefits that children can experience after attending a forest school?
?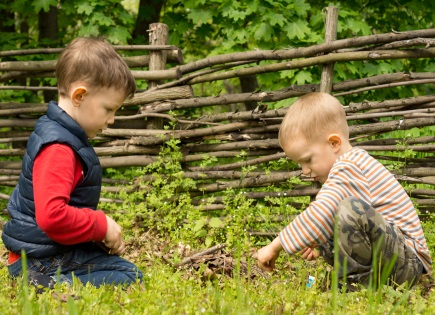 Forest schools not only offer a great learning environment for children (what better environment than nature, after all?), but also have a wide range of benefits that can help your child's development in a number of different ways. Taking part in forest schools at a young age encourages outdoor play, something which can be left by the wayside in the modern world, often due to indoor entertainment, perceived dangers of the outside, or a lack of green spaces in more urban communities.
Children love to play in the outdoors, but often don't realise this until they get the chance to; it gives them a chance to really get mucky, as well as engage all of their senses as they partake in brand new experiences! Teaching children about flora and fauna can also encourage a healthy interest in nature and the environment, as well as helping build healthy habits that last a lifetime.
Forest schools are also a nice break for children from their usual activities; outdoor learning offers a very different kind of stimulation than indoor play, or watching TV, and engages not only their emotional faculties but their mental and physical ones too. Being an active participant can also build confidence, improve communication, and prompt language development amongst youngsters.
If you're looking for playgroups for toddlers in Richmond that will not only allow your little ones to have fun and make friends but will also help them to develop to the fullest of their potential, then TAZ has the forest schools sessions for you! Little Squirrels offers 18 month-olds to 4-year-olds in Surrey a chance to learn and grow by partaking in all-weather activities such as den building and artwork!
Book your place on one of the upcoming Thursday sessions (either the morning or afternoon option).
---
23 Sep 2016
Are you looking for a volunteering opportunity in your spare time? Do you like to get into the outdoors? Or meet new people while making a positive difference to your local community?
If you have answered 'yes' to any of the above then how about becoming an estates management volunteer at Surrey Outdoor Learning and Development?
Types of work to be carried out include cutting back and clearing of overgrown areas, small tree clearance, hedge cutting, strimming, wood chipping and wood splitting.
We offer various dates throughout the year at High Ashurst in Mickleham, Dorking and Henley Fort in Guildford.
For more information or to apply please go to our jobs, volunteering and work experience page.
---
22 Jul 2016
So here at Surrey Outdoor Learning and Development we have always been advocates of outdoor learning. From day visits to residential trips, outdoor education has been creating a buzz in the news recently - take a look at the links below to see what we mean.
Happy reading/watching!
---
11 May 2016
It's no secret that the team here at Surrey Outdoor Learning and Development all absolutely adore the great outdoors, and are enthusiastic supporters of outdoor education in London and around the UK; we love nothing more than encouraging activity amongst children, and to see them have fun while they learn and grow! With this in mind, we're always pleased to see other people and institutions taking children's outdoor learning seriously, like Persil is doing with their recent efforts.
The UK has seen a worrying decline in outdoor activity and 'hands-on' play, where children go outside and get dirty by engaging in activities like climbing trees, building dens and hunting for insects. Surveys undertaken by Persil have found that almost a third of children in the UK play outside for less than 30 minutes a day, and twice as much of their time is spent on screens than outside, leading to an increase in inactivity amongst young people, which runs the risk of carrying over into adulthood.
Studies have shown that children who don't play outside as much as they should (1-3 hours a day are recommended depending on the age bracket) are missing out on essential skill building, personal growth and various other health benefits.
Outdoor play and education can help foster things like problem-solving, teamwork, social and practical 'hands-on' skills, as well as contribute to emotional and mental well-being in both children and adults alike. Spending more time outdoors also helps children find an appreciation for nature and can stop bad habits from forming such as inactivity, something which is all too easy to fall into with the abundance of gadgets on offer these days!
With this in mind, Persil have launched their #DirtIsGood campaign which encourages children to go outside and get active, no matter the stains their clothes may suffer as a result! Friday 17th June of this year also marks the Empty Classroom Day, an initiative to encourage schools to teach at least one of their classes outdoors to help their pupils see the benefits of outdoor learning. We think this is a fab idea, and encourage parents up and down the UK to talk to their schools about it to make sure that they - and their children - will be taking part!
If you're interested in giving children in your care a head start in life and believe that they'd benefit from outdoor education in one of our London or Surrey adventure sites, then SOLD would love to hear from you! With a wide range of sites and activities, we take great pleasure in reacquainting both adults and children with nature, and encouraging them to push themselves and see the results! If you'd like to know more about our activities or facilities, then get in touch today or simply browse our site for more information.
---
03 Feb 2016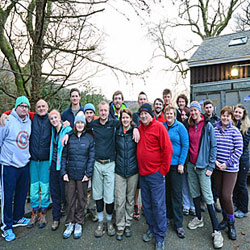 The whole SOLD team have recently graduated from the WorldHost Customer Service training course that has been run at their outdoor education centre, High Ashurst, in Dorking.
Teams from catering, operations, facilities, business support and marketing have successfully completed the course run by WorldHost who are one of the leading companies working hard to transform customer service standards across the UK. While the SOLD team already put the customer firmly at the centre of everything they do, the teams have created action plans for each of their areas to improve the organisation's processes and procedures which will benefit their valued customers even further.
---
23 Dec 2015
At SOLD we pride ourselves on being green and helping the environment where possible. As a result, this year for the Green Achiever Award we have progressed to 5 stars out of 5 for High Ashurst, 4 stars for Thames Young Mariners and remained at 4 stars for Henley Fort.
This is the fifth year that we have produced a self declaration of environmental commitment to the scheme for green businesses where we have identified and comply with all environmental legislation relevant to our business activities. Over the next 12 months we hope to improve on this further.
For more information about Green Achiever please visit their website.
---
23 Dec 2015
Surrey Outdoor Learning and Development were nominated and selected as finalists in this year's Leatherhead and District Business Awards in the Sustainable Organisation of the Year category, sponsored by Unilever.
The Awards Ceremony Dinner took place on Monday 30 November and SOLD were announced as the winners in this category!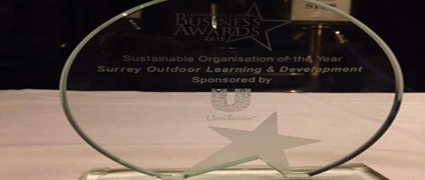 ---
22 Dec 2015
This guide has been created to help schools and organisations get the most out of their outdoor learning experiences.
With AHOEC, English Outdoor Council, Learning Outside the Classroom and Learning Away combining their knowledge and resources into this helpful document you can challenge your outdoor learning providers in order to get the most out of your outdoor learning experiences.
Including the 10 key outcomes of high quality outdoor learning, the benefits of outdoor learning as well as high quality indicator checklists, this handy little guide combines information to help you help your students.
Please click here to download the full guide (PDF).
---
20 Aug 2015
Surrey Outdoor Learning and Development welcomed the NCS (National Citizen Service) youth ambassadors 'Only the Young' to their outdoor learning centre High Ashurst in Mickleham Dorking. As youth ambassadors, the group who were recently on X Factor, visit many of the NCS groups as they undertake their residential, team building visit as part of their personal and team learning and development programme over the summer months.
After performing an acoustic set of songs to a group of young NCS participants from Guildford, Betsy, Parisa, Charlie and Mikey chatted with the young people about how they have enjoyed being away from home and undertaking some challenging and fun activities including putting up tents, sleeping under the stars, hiking in the Surrey Hills, team tasks including a catapult build and much more. The young people really engaged with the group and supported the foursome when they undertook their own challenge.
The team at SOLD challenged the four bandmates to one of their high ropes courses where they had to climb 25 feet to a platform before jumping onto a trapeze. They were then challenged to hanging upside down, dangling from a rope before being lowered to the ground again. The band managed a go each before Mikey and Charlie pushed themselves more by having to jump further for the trapeze. Great fun was had by all.
In 2015, SOLD have welcomed 16 separate waves of NCS groups to two of their centres, Henley Fort in Guildford and High Ashurst in Mickleham nr Dorking, since June amounting to over 1000 16 and 17 year olds undertaking Phase 1 of their NCS journey. NCS Co-ordinator Simon Kibble said 'SOLD have been proud to be partners with the NCS/Challenge for the third year running working with a variety of groups from London and the South East.'
To see photographs from this visit please take a look at our Facebook page.
---
26 Feb 2015
We offer a bespoke service to any school that expresses an interest in GCSE PE activities of an adventurous nature.
We can currently offer climbing and mountain biking (depending on the exam board) and we are looking to develop archery and orienteering. We are also able to offer kayaking, canoeing and sailing for those who want something even more challenging.
Using activities of an adventurous nature may enable certain students to score more highly on their practical assessment than they would otherwise. Students that may benefit from pursuing an activity of this nature may be those who:
are lacking confidence
do not have a bank of transferable ball skills
would appreciate performing in a non-competitive environment
For further information contact Gareth Moss (gareth.moss@surreycc.gov.uk) or take a look at our Schools and Youth Groups page.
---
07 Jan 2015
Don't forget to 'like' us to find out the latest news, events and special offers!
Facebook
Surrey Outdoor Learning & Development
Twitter
See our latest tweets on Twitter: @SOLDoutdoors
1